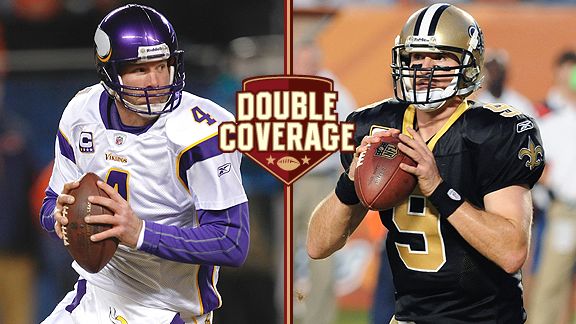 The Birthmark
vs.
The Retiree
.
The Commercial
vs. The [NSFW]. Colts -8. Saints -3.5. I've been trying to find anything that will give me some confidence in making these picks any way. The Vikings pass rush could bother Drew Brees even more than the
Cowboys did in December
. The Jets could run on the smaller quicker defenders of the Colts and even if they don't win, could still keep the game closer than 8. I finally settled on
Bill Simmon's philosophy
of only taking the underdog if you think they can win outright...and
interceptions
. So taking a look at the team
offensive
and
defensive
stats, specifically interceptions thrown and interceptions by the defense, and decided who I think will win that way.
The Colts threw 19 interceptions in 601 attempts, the Jets threw 21 in 393 attempts. Indianapolis caught 16 interceptions against 583 attempts and New York caught 17 interceptions against 501 throws. So the Jets do a slightly better at intercepting the ball, but the Peyton Manning does a WAY better job not throwing interceptions. Manning throws 1 pick this game, Sanchez throws more. Colts win.
Instead of giving you all the stats that you can see for yourself on those links. Favre doesn't throw interceptions (led the league), but the Vikings defense doesn't catch interceptions. Brees also does a really good job not throwing interceptions, but New Orleans defense does a great job intercepting the ball. I say Brees throws 0, Favre throws 1 and the Saints win.