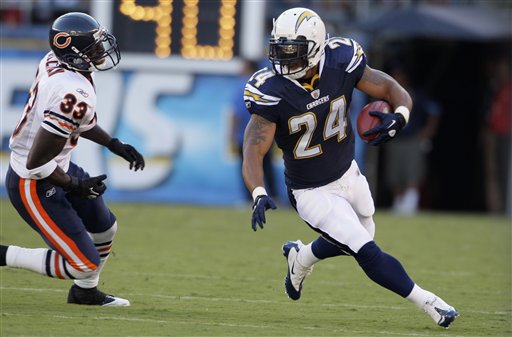 Last week
didn't go that well for me. I mean my picks weren't that great, but the real killer was the Chargers losing to the Raiders. I guess our 4th-8th linemen aren't that great. And our 1st-3rd were injured. As for my picks, I think I blindly followed my statistical analysis just a little bit too much. As I pointed out, I actually picked the Bengals to beat the Steelers outright, even though I knew this looked fishy due to their respective strength of schedules. So, this week, I'm relying heavily on the Pythagorean winning percentage compared to the spread historical winning percentage, but in a few cases, I am going to interject just a little bit of common sense.
Nyj (-6) over DENVER: Common sense piece #1. Actually analyze the game before it happens. I got my Nyj pick in before the game...but upon analyzing it this morning, it turns out that this game should have been a 3 or 3.5 point spread, so with the spread at 6, I would have picked the Broncos. And even if Tebow doesn't run in that touchdown late, the game ends 13-10 and Den +3.5 covers. So, analyze the picks before the game happens; check.
CLEVELAND (0) over Jacksonville: More of a home team advantage than anything else. Two kind of bad teams with frisky defenses and just enough weapons to shock you if you don't show up ready to play. I'm going with the HOME TEAM (0) over Visitors.
DETROIT (-7) over Carolina: Common sense piece #2. If the starting quarterback is injured, maybe discount that team's previous performance just a little? But it looks like Stafford's broken finger isn't going to keep him out of the game or hinder him all that much. This game should have a double digit spread. Cam Newton has come back to Earth a bit after such blazingly hot start to his career, so the question arises, is he still the favorite for Offensive Rookie of the Year? Newton has 800 more passing yards on a two win team. Andy Dalton now has more touchdowns and fewer interceptions than Newton. And AJ Green is on pace for 1,128 yards and 11 TDs. That's a pretty impressive year for a WR, much less a rookie. But Cam Newton is throwing to Steve Smith, who is on pace for 1691 yards. I say it is still up in the air, and we'll have to see how the Bengals do against the Ravens and Steelers over the remainder of the season.
GREEN BAY (-14) over Tampa Bay: This spread actually isn't big enough. The Packers win 93% of the time, but 14 point favorites only win 80% of the time. It feels weird to say that only giving 14 points may be good value.
Buffalo (+2.5) over MIAMI: This line feels confusing. My gut says the Bills should be favored and my analysis says they win 57% of the time. So the Dolphin's two game winning streak over the Chiefs and Redskins is enough to make them favored? Doesn't feel right.
Oakland (-1) over MINNESOTA: Oakland should be favored by 3. And I'm really cheering hard for Ponder, AD and the Vikings this weekend. The crappy AFC West is the only thing keeping the Chargers playoff hopes alive.
WASHINGTON (+7.5) over Dallas: There is an unusually big jump from 7 to 7.5. 7 point favorites win 72%, which is right where this game should be. 7.5 point favorites win 78%. In fact, the difference between 7.5 point winning percentage and 10 point winning percentage is smaller than the difference between 7 and 7.5. Common sense piece #3, actually pay attention to the differences even small changes can make. Since I'm saying that you take Was +7.5, but Dal -7, that means you stay away from this game. I'm also not considering the Washington QB, because I don't think there is any drop off or improvement going from one to the other.
Cincinnati (+7) over BALTIMORE: Just like last week, my number say take the Bengals ATS. Not straight up, but ATS because this spread should be 3 or 3.5. But the Ravens have gotten a little too schizophrenic (I really like that word) for me. Is this a team that swept the Steelers or the team that lost outright to the Seahawks and Jaguars. If anything, I feel the Ravens will win by 14+ or lose. This is actually a regularly defined strategy when trading options called a straddle, where you buy a call and a put outside the money and if the security trades inside the range, you lose money and if it goes outside the range, either up or down, you make money.
Seattle (+1.5) over St. Louis: At 2-7, St. Louis is actually playing better than their Pythagorean winning %, which says they should be 1.5-7.5. The Seahawks should be favored and win 66% of these game, but we need to go back to common sense piece #2. Who is starting at QB for Seattle this weekend? Checking, ok it looks like their normal starter is probable, so now we feel a little more confident picking the Seahawks.
SAN FRANCISCO (-9.5) over Arizona: Still thinking about the Seahawks. They have singled handedly ruined many survivor pools by defeating the Giants and the Ravens. Looking ahead, with the combination of the 49ers possibly clinching the #2 seed and playing in Seattle, I wonder what kind of line I could get on the Week 16 SF @ Sea game? I only mention this because it is much more interesting that talking about the AZ @ SF game.
Tennessee (+6) over ATLANTA: These teams are really, really close and home field advantage should be making the only difference. They have identical records and nearly identical Pythagorean %, so why the six points? I don't know, but I'll take it.
San Diego (+3.5) over CHICAGO: Homer, homer, homer, homer, homer, homer, homer, homer, homer, homer, homer, homer, homer, homer, homer homer. My wife tells me all the time "At least I know when I'm being irrational. It would be a lot worse for me to be irrational and think I was being rational."
NYG (-4.5) over Philadelphia: Vince Young.
NEW ENGLAND (-14.5) over Kansas City: Tyler Palko.