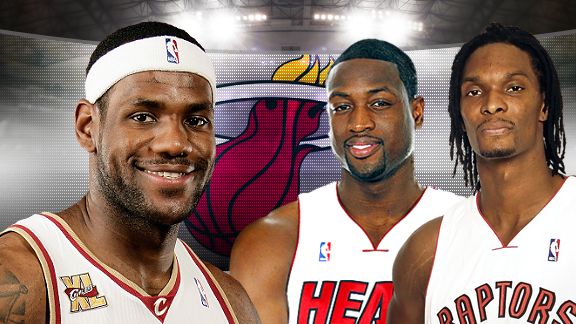 Bill Simmons wrote a column during the 2006 NBA Finals, in which
he describes two possible futures for the NBA
. The Mavericks could win and convince NBA teams and younger players that the collective team concept was the best way to play. Or Dwyane Wade and the Heat could win and reinforce the idea that a perimeter scorer playing a clear out one-on-one game was the best way to win. Unfortunately Wade won and guys like Vince Carter, Allen Iverson, Gilbert Arenas and now Joe Johnson get max contracts.
Fans continually call out to their sports heroes to take less money to help the team sign other players good enough to help them win a championship and that is exactly what
LeBron James
,
Dwyane
Wade and
Chris Bosh
did by agreeing to sign with the Miami Heat for less than the maximum contract available. Parents tell their kids to play as a team. We despise Kobe Bryant for taking thirty (
30
) shots to get his points when most observers would agree that the Lakers best chance to win is for him to create open looks for himself and the rest of his team. We prefer to see LeBron win getting a 20-10-10 instead of Monta Ellis scoring 42 in a loss.
The Miami Heat should be a team in every sense of the word. They should be able to win unselfishly and make people proud to be fans of the NBA.