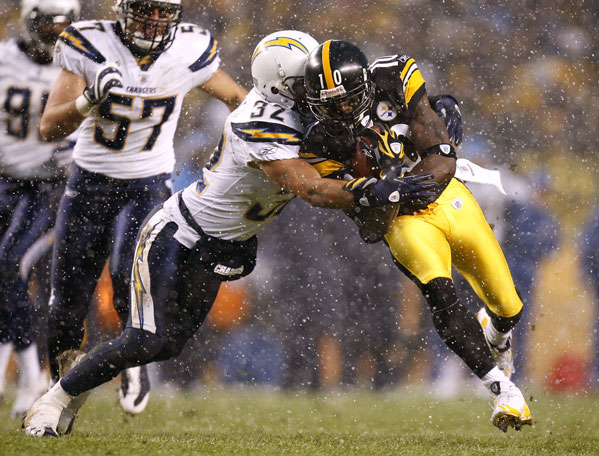 So last week I had mentally acknowledged that the Chargers weren't going to the playoffs. I had come to peace with that. Then at about 3pm on Sunday, I was sitting in BJ's and they showed a graphic of the playoff situation. At the time the Ravens were leading the Steelers and the Chargers were leading the Bengals. If both games held serve, the Chargers would be 5-7, tied with the Jets, Bills and Dolphins and only one game behind the now 6-6 Steelers and Bengals. And by closing out the Bengals and beating the Roethlisberger-less Steelers the following week, the Chargers would have two very important tiebreakers in the fight for the last AFC playoff spot. DAMMIT CHARGERS!! In that, that's been their
M.O.
this season. Getting your
hopes up before dashing them quite expertly
. The Chargers have led at half time in 9 of their 12 games this season. 75%. In the three games they trailed at the half, they lost. In the nine games they led at the half, they have gone 4-5. The Chargers don't just lose...the lose from ahead in excruciating fashion. Technically, they are still not mathematically eliminated from the playoffs AND they still have a positive point differential, placing them well ahead of the 8-4 Colts and the three 5-7 teams in the AFC East. Come on already!! Put me out of my misery. Just do it already. I was going to include a link to a Wire scene there...but I decided not to spoil anything for Royce.
Also, I'm on vacation and enjoying a Stone Ruination IPA...this will probably be shorter (or much, much longer if I drink faster than I type)... you're lucky you're getting anything at all.
OAKLAND (+10) over Denver: This looked really good when Oakland was only down 13-7 at halftime. The Carson Palmer went and did what he does and Peyton Manning did what he does. The end result; Denver wins 26-13.
Bold Prediction: R. Streater (I don't care to click one extra time to learn his first time) has 4 catches for 100 yards.
St. Louis (+3) over BUFFALO: Go CJ Spiller!! That's my sophisticated analysis for this game.
CINCINNATI (-3) over Dallas: You know how Dallas is one of those public teams that gets more people betting on them, which can adjust their lines ever so slightly? If I ever cared to go really deep, I wonder try to figure out if I pick against the Cowboys more than other teams because of this factor... Well, maybe not in the last two seasons, because the public thinks they are really bad and Tony Romo is actually a better quarterback than he gets credit for.
CLEVELAND (-6.5) over Kansas City: Picking the opposing defense against the Chiefs in fantasy didn't work out that well for me last week. I mean, I still won because I'm just that awesome...but here's hoping they help me win my first playoff game this season.
Tennessee (+5.5) over INDIANAPOLIS: Really? I thought the Titans sucked and the Colts were an 8-4 playoff team...hmmm...
Chicago (-3) over MINNESOTA: Only 3 points? I'd take the Bears up to...5!
PITTSBURGH (Off(0)) over San Diego: I have seen this line Off, which means I'm taking the Steelers. I've seen a 3 point line, which means I'm still taking the Steelers. I've seen a 7 point line, but at that point, I'm having none of this nonsense. I'm taking the Chargers +7!!
Oh, and I will be watching this game from the ESPN Zone in Downtown Disney.
TAMPA BAY (-7.5) over Philadelphia: You know why Matthew Berry is a professional writer and I'm writing for an audience of 2.5? Well, many, many reasons. He's funnier than me, has more experience and more talent and work ethic (in terms of writing) all around. It's very similar to comparing me dominating pickup football games as a QB and Peyton Manning. Have the Eagles checked out more than the Chargers? Who is phoning it in for their lame duck coach harder? Is there a way to measure this?
Baltimore (+2.5) over WASHINGTON: Since I've started using my system of comparing Pythagorean winning percentages, I've found that my picks Straight Up are heavy on the favorites. Like this week, the Ravens are the only underdog I am picking to win straight up. I want to say that my SU picks are more consistent...I'm more likely to win a group for the whole season than any individual week.
Atlanta (-3.5) over CAROLINA: Did my analysis of the previous pick include anything about the actual game? Will this one? Apparently not.
Nyj (-2.5) over JACKSONVILLE: Ugh. I don't want to talk about this game either.
Buttfumble
.
SAN FRANCISCO (-10) over Miami: For me to be taking the 49ers when they are favored by 10 speaks to how good they really are. If the 49ers win the Super Bowl, I know a lot of SF fans who will become simply unbearable. Go Broncos?
NYG (-5) over New Orleans: Sometimes, I really do wonder how I will feel after one of my teams wins a championship. Whenever I think of the Saints I think of Drew Brees and Sean Payton winning the Super Bowl. And Eli Manning pisses me off because his defense and luck got him two. (and the eternal comparisons to Philip Rivers...) This game could be fun to watch, but I'm moving on.
Arizona (+10) over SEATTLE: Wow, the Seahawks are favored by 10? Looking back on the season, does anyone feel like the Seahawks are one of the dominant teams who should be favored by double digits? Are the Cardinals really that bad? Yes. Yes they are.
Detroit (+7) over GREEN BAY: This would be one of those subjective times when I would probably take the Packers over the Lions...or maybe the Packers aren't as good as we think? I feel like everyone remembers the team that went 15-1 the year after they won the Super Bowl. They seem to keep getting more credit than they actually deserve this season. And I'm not even talking about the loss to the Seahawks.
Houston (+3.5) over NEW ENGLAND: This should be a great Monday night game. I think the Patriots win by 3, which matches their home field advantage. This game won't necessarily be close, but going into it, it's about as close a matchup between two teams as we can hope for. Neutral field makes it New England 52% - Houston 48%.
Bold Prediction: New England wins by exactly 3.