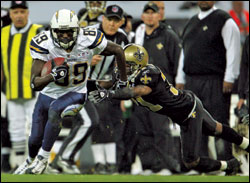 In the first five weeks of the season, I think I've used 6 different titles. I'd like to include 'NFL', the year '2012' and the week. Do you have any suggestions?
After four games (three by Indianapolis and Pittsburgh), we can eliminate half the teams from playoff contention. You won't argue with 12 of those teams, but I'll explain why I'm eliminating the other four. I'm relying primarily on the Pythagorean winning percentage, with a quick double check of team's actual record and
Football Outsiders' Playoff Odds Report
. I am eliminating, with no further consideration, Oakland, Tennessee, Jacksonville, Kansas City, Carolina, Indianapolis, Cleveland, New Orleans, St. Louis, Detroit, Tampa Bay, and Miami. I am also eliminating Dallas and Washington because they won't overcome the Giants or Eagles in their division or the NFC North and West teams for the wild card. I would also like to eliminate the Eagles with their 1.5-2.5 record, but their actual record of 3-1 keeps them in consideration.
The AFC playoff favorites: Houston, New England, Baltimore, San Diego, Denver, Cincinnati. It's starting to look like both San Diego and Denver will make the playoffs. And Cincinnati's current 3-1 record gives them the slightest of edges over Pittsburgh, who I am not going to eliminate. The teams I am eliminating WITH consideration are Buffalo, and the NY Jets.
The NFC playoff favorites: Atlanta, San Francisco, Chicago, NY Giants, Arizona, Minnesota. Here I need to add my caveat. This technically does not include Green Bay or Philadelphia, who I think have a very legitimate chance of making the playoffs. I am not as confident about the Eagles as the guys at Football Outsiders are, but their 3-1 record does put them a game up on their division. I also think the Packers are a good team, but the Vikings and Bears are both a game up with better Pythagorean %'s The loss to the Seahawks hurts them in the standings a lot more than it hurts them by Pythagorean %'s. I also include Seattle as a possible wild card contender.
So there it is. I've named 7 AFC teams and 9 NFC teams for 12 playoff spots. I eliminated half the league from playoff contention.
Arizona (-1) over ST. LOUIS
: Don't be confused by Arizona's record. They're really only a 2.9-1.1 team. But don't be confused by the Rams record either. They're a 1.7 win team masquerading as a 2 win team. What's that you say? Those are basically the same thing? Well...ok...you have a point there. By bigger point is that Cardinals should be favored by 6, not 1.5.
Fantasy
: Larry Fitzgerald is your only automatic, but Danny Amendola is working his way in. Ryan Williams and Steven Jackson are getting the carries, but you always feel stuck with them, rather than excited to have them on your team. Pick up Andre Roberts, but don't start him, let's see how many targets he gets over the next few weeks.
Not So Bold Prediction
: Larry Fitzgerald, Andre Roberts or Ryan Williams scores a touchdown.
Bold Prediction
: I actually finish this before the first game of the week.
Miami (+3.5) over CINCINNATI
: Not much value...but the spread should be 3.
Fantasy
: Reggie Bush, BenJarvis Green-Ellis, AJ Green, automatic. I mentioned Andrew Hawkins and despite his 3 catches for 39 yards, I'm not changing my lukewarm opinion on him. As for Brian Hartline, I want you to ignore his 253 yards last week. I want you to ignore the fact that he is currently the leading receiver in the NFL. I want you to pay attention to his 48 targets, which trails only Victor Cruz and Dwayne Bowe. He is should definitely be on a fantasy team and could even be a decent start this week. 48 targets!!
Not So Bold Prediction
: Reggie Bush catches a pass.
Bold Prediction
: Cincinnati wins, but doesn't cover.
INDIANAPOLIS (+7) over Green Bay
: What?!?1 The team that had the first overall pick over the team that went 15-1 last year? Well, The Colts were really 3.3-12.7 last year and the Packers were 11.8-4.2. That doesn't really convince you? Despite the injustice in Seattle, the Packers are who they are. They're just barely better than .500. This spread should be 4 or 5 in Indy.
Fantasy
: Start all you Packers, including Cedric Benson. I am starting Benson over CJ Spiller, although that probably due more to the Bills playing the 49ers than an endorsement of Benson. Start Jermichael Finley, Aaron Rodgers, Jordy Nelson, Randall Cobb, even James Jones. But starting James Jones is because it looks like Greg Jennings is out with a groin. For the Colts, start Reggie Wayne and no one else.
Not So Bold Prediction
: Aaron Rodgers throws a touchdown.
Bold Prediction
: Cedric Benson scores a touchdown.
Baltimore (-6) over KANSAS CITY
: The Cardinals line opened at 1, when I started doing my analysis. The Dolphins opened at 4.5, then moved a full point. I loved the Ravens -4.5 where it opened, but at -6, I only like the Ravens. I'd probably take the Ravens up until a 10 point line.
Fantasy
: Start all your Ravens. Ray Rice, Torrey Smith, Dennis Pitta, Joe Flacco...even Anquan Boldin has some fantasy options. Think 60 yards and a 35% chance of a TD. Could you benefit from 6 points? Jamaal Charles and Dwayne Bowe are now must starts every week. And it's not like the Ravens defense is still elite.
Not So Bold Prediction
: Ray Rice catches a pass.
Bold Prediction
: Ray Rice and Jamaal Charles both finish as top 5 RB for this week.
NYG (-9) over Cleveland
: Finally a line that moves in my favor. I was taking the Giants at -10. This isn't quite the same problem as a big 13 point spread, but it's the same principle. How big does the line need to be to take the underdog? Let me put it this way, I'm picking the Giants, but not putting $ on NYG.
Fantasy
: Victor Cruz. He's the only super automatic starter and a full tier above the regular automatic starters, Eli Manning, Trent Richardson, and Ahmad Bradshaw. Martellus Bennett is a starter, but not automatic. Hakeem Nicks would be in Victor Cruz's tier, but it doesn't look like he's playing. And Ramses Barden suffered a concussion, so Domenik Hixon can be an average fill-in. I carefully chose that adjective to establish appropriate expectations. Andre Brown will get some carries, but isn't worth starting with Bradshaw getting most of the work.
Not So Bold Prediction
: Victor Cruz catches a pass.
Bold Prediction
: Victor Cruz does a salsa dance.
PITTSBURGH (-3.5) over Philadelphia
: Last year, Denver and Oakland both went 8-8 with the Pythagorean % of a 6-10 team (5.9-10.1 and 6.3-9.7, respectively). This is exactly where the Eagles are right now. They are lucky to be 3-1 with a .3696 Pythagorean %. Pittsburgh is .5153. 'Nuff said.
Fantasy
: LeSean McCoy, Mike Wallace, Antonio Brown, automatic. Michael Vick, DeSean Jackson, Heath Miller, Jeremy Maclin, Ben Roethlisberger, in order from most to least likely should be started in fantasy. If you have an extra bench spot, make sure to pick up Rashard Mendenhall this week so that you won't have to fight the waiver wire after the game. Don't start him against a decent Eagles defense, but when he leads the team in carries, he'll be a top pick up.
Not So Bold Prediction
: Roethlisberger and Vick take a ton of sacks.
Bold Prediction
: Both Roethlisberger and Vick run for a first down.
Atlanta (-3) over WASHINGTON
: So if you usually get 3 points for home field advantage, this line says the Redskins and Falcons are even on a neutral field? No matter how you look at it, I don't get this line. If Vegas sets a line to get half the bettors on each side, who is taking the Redskins +3? I'm not saying it's that far off, it should be 6 or 7, but seriously, who is taking the Redskins?
Fantasy
: Don't worry about Julio Jones. You start him and Roddy White every week, knowing the worst case scenario is that they take turns and each look like Vincent Jackson. Best case scenario is that they are both better than Vincent Jackson. Matt Ryan is turning into a top 5 fantasy QB and will definitely be there this week. Tony Gonzalez has been the biggest beneficiary of Ryan's ascension. Michael Turner is still a solid fantasy starter...but keep an eye on Jacquizz Rodgers. Robert Griffin III is also a top five fantasy QB, but not quite this week. He's out-Vick/Newton-ing Michael Vick and Cam Newton. Keep riding Alfred Morris until Mike Shanahan burns you. Leonard Hankerson is a deeper option, but he's in the 35-45 range. Rosterable? Maybe not.
Not So Bold Prediction
: Matt Ryan throws a touchdown and Robert Griffin runs at least once.
Bold Prediction
: Atlanta wins by exactly 7.
Seattle (+3) over CAROLINA
: Maybe bettors just really like young, mobile quarterbacks? Another confusing line. I think the Seahawks win outright.
Fantasy
: Cam Newton, Marshawn Lynch, Steve Smith. I refuse to give any advice regarding DeAngelo Williams or Jonathan Stewart. Don't even bothering rostering a Seahawks receiver. And with my QB on a bye this week, I finally dropped Russell Wilson in favor of Christian Ponder's matchup against the Titans.
Not So Bold Prediction
: Cam Newton runs a QB draw.
Bold Prediction
: Does picking a 3 point underdog to win outright count as a bold prediction?
Chicago (-6) over Jacksonville
: This line moved from 4 to 6 in two days. And it still isn't high enough. I have the Bears as the 4th best team in the NFL, after the Texans, Falcons and 49ers. Better than the 4-0 Cardinals, Ravens, and Patriots. Jacksonville has scored the fewest points in the NFL. Well technically, they have scored 62 points and the Colts have only scored 61...but the Colts have only played three games.
Fantasy
: Maurice Jones-Drew, Matt Forte, Brandon Marshall, are automatic and Michael Bush is probable. How do you feel if I applied Probable, Questionable, Doubtful, and Out to players fantasy status, independent of real life injury status? Everyone else in this game is Out. Jay Cutler was dropped in several leagues and no one rushed to pick him up.
Not So Bold Prediction
: Chicago wins.
Bold Prediction
: Chicago wins by 14.
MINNESOTA (-5.5) over Tennessee
: Minnesota actually has the highest probability of winning any game this week. Mostly because the Titans have given up the most points in the NFL.
Fantasy
: Adrian Peterson and Percy Harvin. I keep hearing good things about Kyle Rudolph, but I'm just not feeling it. Chris Johnson, Kenny Britt, Nate Washington, and Jared Cook should be on rosters, but not started. Go ahead and drop Kendall Wright, but don't lose sight of him.
Not So Bold Prediction
: Adrian Peterson outrushes Chris Johnson.
Bold Prediction
: Percy Harvin outrushes Chris Johnson.
Denver (+6.5) over NEW ENGLAND
: This line moved from 7 towards the Broncos, so apparently I'm on the same side as most bettors. The Patriots should only be favored by 3.
Fantasy
: Tom Brady, Rob Gronkowski, Wes Welker, Brandon Lloyd, Peyton Manning. I'm glad I didn't swoon over Stevan Ridley, because I have no idea how the carries will be split between him and Brandon Bolden. I'd like to say both should be owned and possibly started, but you'll have to buddy up with an actual Patriots player to have any guess as to who will be benefiting from that week's game plan. Demaryius Thomas is a Probable start and Eric Decker is a Questionable start. Remember, those are my fantasy designations, not their real life injury designations. Willis McGahee is also a Questionable start depending on your team. He's a good 3rd or 4th RB and a decent start if you drafted DeMarco Murray, Darren McFadden or Doug Martin.
Not So Bold Prediction
: Announcers mention how Peyton Manning and Tom Brady have met in lots of consecutive seasons.
Bold Prediction
: Tom Brady stars in more commercials than Peyton Manning.
SAN FRANCISCO (-10) over Buffalo
: San Francisco is good. Not as good as Houston, but pretty good. Especially on defense. Again, not as good as Houston's defense, but pretty good. I'd take the 49ers up to 14 points.
Fantasy
: Frank Gore and Vernon Davis are the only guys not on the debatable-starters-not-injury-designations list. Kendall Hunter and Michael Crabtree are Doubtful. The 49ers defense pushes everyone on the Bills down to Questionable or worse. CJ Spiller and Steve (Stevie?) Johnson are pushed down to Questionable, while Scott Chandler is bumped up to Questionable. Everyone else is Out.
Not So Bold Prediction
: Frank Gore runs the ball.
Bold Prediction
: Alex Smith doesn't throw a pass in the 4th quarter.
San Diego (+3.5) over NEW ORLEANS
: Homerism aside, this is an entirely emotional line. This is every bettor saying "The Saints can't go to 0-5, can they?" If you were to replace the team names with Team A hosting Team
Fighting Mongooses
, I don't see how anyone could favor Team A. Even in New Orleans, the Chargers should be favored by 6.
Fantasy
: Start everyone, there are going to be 8 or 9 touchdowns in this game. Drew Brees, Philip Rivers, Jimmy Graham, Antonio Gates, Marques Colston, Darren Sproles, Lance Moore, both Ryan Mathews AND Jackie Battle. What's that? There are more players on the team? Starting Malcolm Floyd, Robert Meachem and Eddie Royal is just gambling, but one of those guys will catch a touchdown. And don't start Pierre Thomas or Mark Ingram. (I wonder if there's a relation to Melvin Ingram?) By "everyone" I actually meant "everyone already on a fantasy roster".
Not So Bold Prediction
: Both Philip Rivers and Drew Brees throw a touchdown.
Bold Prediction
: Philip Rivers throws more touchdowns, but Drew Brees throws for more yards and more interceptions.
Houston (-8) over NYJ
: So the Giants are at home on Sunday and the Jets are home Monday night. I wonder if we'll get to see one of those cool accelerated video montages of the stadium during this conversion. The Texans have the highest neutral-field probability of winning. Easy choice.
Fantasy
: Start your Texans and drop any Jets. Arian Foster, Andre Johnson are automatics. Matt Schaub will get a couple touchdowns, but limited yards. Owen Daniels maybe have a few catches, but probably not a touchdown. Ben Tate isn't getting the garbage time work he got in Week 2. One idea I am passing to you from Matthew Berry (it's not stealing) is to use your last bench spot in a deep league to pick up Tim Tebow and wait for him to be named the starter. I won't be doing it, but that's because I have good fantasy quarterbacks. If you need help, Tebow's rushing yards make him a better fantasy option than real life quarterback. (Miracles aside. The Tebow miracles help his real team win, but do not extend to your fantasy team.)
Not So Bold Prediction
: Tim Tebow blocks someone.
Bold Prediction
: Arian Foster gets two touchdowns.