In reviewing the
FIWK draft primer
at the halfway point of the season, I always find it helpful to look at who has achieved expectations and who has underperformed so far. Without question, the standout performers have been mostly young guards. In fact, the overall recommendation to 'draft young' has been a winner. Among those listed, here are the young players outperforming draft position:
Ty Lawson (especially before injury); DeMarcus Cousins (still insane though); Mike Conley; Greg Monroe; James Harden; Marcus Thornton; DeAndre Jordan; Jeff Teague; Paul George; Kyle Lowry; Marcin Gortat; Roy Hibbert; Jarrett Jack
And in the interest of fairness, here are the duds from my list:
Tyreke Evans (started slow, playing better now); Serge Ibaka (same as Evans); JaVale McGee (not terrible, but not a big jump); Toney Douglas; JJ Barea; Ty Thomas; Landry Fields … and that's about it. Seriously, most of the young dudes have been balling.
I did withhold one favorite sleeper, Danilo Gallinari, because I was nervous he might get taken from me in my draft (Aaron is sneaky). Of course I published this so late it didn't matter. He was also great before injury. And there have been several high-profile young dudes who I did not list but have definitely
outperformed their draft position
:
Kyrie Irving (approx. 4th round); Rick Rubio (9th round?); Nic Batum (10th); Lou Williams (12th); Ryan Anderson (13th); MarShon Brooks (undrafted); Jeremy Lin (u); Nikola Pekovic (u); Ersan Ilyasova (u).
That is a pretty strong list. The one thing almost everyone has in common is that they are young and showed great improvement combined with some opportunity. Lin is the best and most obvious example – he clearly improved his game a ton since last year, when he didn't play, and also he landed on a team that desperately needed a PG and so gave him the opportunity to get minutes. The same goes for basically every player on this list.
Special mention needs to be made for a couple of older PGs who have outperformed draft position: Steve Nash (4th round) and Jose Calderon (9th). Both are having throwback years to a few years ago, when they were super-efficient from the field and line, hit 3s, and dished a ton of assists. Both are performing 2-3 rounds better than their draft position to the season's midpoint.
What stands out to me from the above names is that thirteen are young guards. Throw in the stud guards always picked high (Paul, Rose, Westbrook, Williams, Kobe, Wade, and the oft-injured Curry) and that is fully twenty studly guards who can fill up traditional scoring/assist/FT/3s/steals numbers that are the staple of the
Fantasy Kahn
strategy. (Only John Wall has been a disappointment among highly-drafted guards, and he's bouncing back.)
The other position that is glaring for its dearth of talent is SF. The above-mentioned Batum and Gallinari (pre-injury) were both top-5 SFs in fantasy, which few would have imagined going into the season. Rudy Gay and Josh Smith (who does have SF eligibility) are near them, and then there's a cluster of good but underperforming-their-draft spot guys: Igoudala, Pierce, Carmelo, Granger, Joe Johnson. In fact, Carmelo is ranked 19th on the
Player Rater
, sandwiched between such luminaries as Carlos Delfino, Thad Young, and Jared Dudley. Ugh.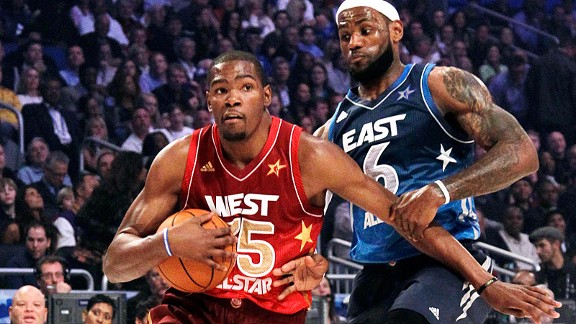 Which brings me to the only two studs in fantasy this year: LeBron James and Kevin Durant. These guys are so good that they are worth almost 2 of any other player combination in fantasy, once you factor in SF positional scarcity. LeBron is singlehandedly keeping Aaron's team afloat in our fantasy league. Both guys absolutely fill up points, board well, and are efficient. Interestingly, the differences are slight but meaningful when crafting a strategy around them: so far this year, LeBron is shooting better on FG% but Durant is a way bigger help for FT%; LeBron is getting tons of assists as usual and Durant is hitting more 3s as usual; and surprisingly Durant is blocking more shots this year (1.2/game vs. LBJ's 0.7/g), which I think is just random chance. The blocks are putting KD ahead of LBJ on the
Player Rater
for the season, but I think the blocks will even out and LeBron will be even if not ahead by year end. Personally I think LeBron's astronomical FG% and assists from the SF position are more rare and therefore more valuable to build a team around. Either way, both players are one-man wrecking crews.
What players have
stood out to you so far
, both positive and negative? Othern Lin, I am particularly surprised that two rookie PGs – Irving and Rubio – have been so impactful in fantasy. That is rare for rookies. What else has surprised you?