[note: this article was written before Christmas Day but I was unable to post until now... the strategies herein still apply however]
Drafting a fantasy NBA squad is like trying to assemble a team of
Action Movie All-Stars
out of the cast of Hollywood actors. Some are better suited for the all-offense role, others are legitimately good actors who aren't great holding a gun.
If you were drafting the Action Movie All-Stars, Jason Statham would be a top pick. Awesome in Crank, Transporter, etc. Probably not going to carry you to an Oscar as a lead man, however. Bruce Willis gets you a little closer; amazing in Die Hard, has a slightly funny side, can be dramatic in Pulp Fiction for instance. Viggo Mortensen is even more of a good actor/great action guy mix. Denzel Washington: the total package. Great in action movies like Man on Fire and Book of Eli, an amazing all-around actor, he can do it all.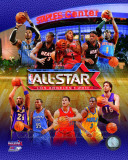 Fantasy basketball is the same way. Steph Curry is your Statham in this scenario – offensive dynamo; fills it up in 3s, assists, pts, steals, and percentages; sucks on defense. He is a potential top 10 pick in fantasy but is nowhere near the top 10 in real life. Kevin Love is like a Bruce Willis – way better in the fantasy game than in real life, but still could be a lynchpin of a very good squad. Dirk's like Viggo here, great in real life and in fantasy. And LeBron James is your Denzel Washington. He's the
Barry Badrinath
of fantasy – best at everything. Well, almost everything. Because the actual secret to winning at fantasy basketball isn't just to pick the Action Movie All-Stars to your squad, it's to assemble a squad built to a specific strategy.
(As an aside, I am having trouble figuring out who to compare
Blake Griffin
to. He is WAY better in real life than in fantasy, super fun to watch, but may not be your fantasy/action movie star that his entertainment value would suggest. Who is his comparable actor?)
The way everyone plays head-to-head, you get a win/loss for each of eight categories (or nine with turnovers). Winning a category by 20 pts or 200 pts doesn't matter, it's still a win. Winning a week 5-3 in categories helps less than winning 7-1, obviously. What you need is to figure out how to consistently win 5 categories against almost every opponent.
Look at the
ESPN Draft Kit
for a great primer in category strategy. Here are the eight cats: Points, Rebounds, 3-pt FGs Made, Assists, Steals, Blocks, FG%, FT%. (Maybe add TOs as the 9th cat.) What stands out to you? If you want to pick up stats in multiple categories at once, you will see that two different styles of players cover about half of the categories: centers dominate Rebs, Blocks, and FG%, and PGs dominate 3pts, Assists, Steals, and FT%.
Your first 2 rounds of draft picks are going to completely determine which categories you want to focus on. Ideally you want to think long and hard about who you're taking up top, then craft the entire rest of your draft around taking advantage of those stars' strengths. Matthew Berry would espouse his favorite strategy as "Point Guards, Power Forwards" because those two positions would cover his categories. It involves a focus on PGs backed up with some rare big man stats like blocks. The alternative is a focus on Cs and sprinkle in rare guard stats like assists.
Both are viable in fantasy NBA. The point guards/power forwards strategy is what I call the Fantasy Kahn, because
Minnesota GM David Kahn
assembled the real life T-Wolves roster completely out of
PGs
and
PFs
. The big man stats strategy is what I call the
Dwight-Rondo
, because the most successful implementation of it I've seen was by our very own
Aaron
last season and featured those 2 guys as its anchor.
I'll do a separate post on each. For today, some general fantasy NBA guidelines that remain age-old truths:
Draft Young
I don't mean draft
Nick Young
. I mean draft young players; they are always the sleepers and breakout candidates. In the first two rounds you can generally get established superstars who will perform at expectations… just draft Durant or Pau or Dirk and feel good about it. But by rounds 3 and on, you can get absolute bargains by drafting young players poised to break out. Can I interest you in the next
Jason Momoa
? In last year's draft you could get Derrick Rose and Blake Griffin in the 3rd and 4th rounds. Those guys are going in the 1st and 2nd rounds this year (although Blake is overrated, as mentioned above). Generally players entering their 2nd, 3rd, or 4th seasons qualify as potential breakout guys. (I didn't say 1st season – rookies are generally overrated.)
Other good young sleepers:
Tyreke Evans, coming off a disappointing year (4th round)
Ty Lawson, with less competition at PG this year (5th)
Serge Ibaka, ready to get even more minutes (6th)
DeMarcus Cousins (6) – *note: he might be insane, you've been warned
Mike Conley (7)
Greg Monroe (7)
James Harden (8)
Marcus Thornton (late 9th) – potential steal of the draft
DeAndre Jordan (9)
Jeff Teague (12)
Paul George (13)
Draft Opportunity
Last season, the Timberwolves had a studly young forward with great per-minute stats coming off the bench, even though the players ahead of him on the depth chart were crap. His average draft position was late 4th round in fantasy. But given the opportunity he had to earn starters minutes, he ended up being a steal and producing a LOT in fantasy terms, while leading the NBA in rebounding. Kevin Love is now a 1st round draft pick this season.
When a player gets a big minutes increase, and is good enough to take advantage, he will outperform his fantasy draft position. That simple. We all knew that Christian Bale could kick some ass, he just needed to be Batman to take it to the next level. Guys like Ibaka, Harden, and Lawson above will get a chance to play Batman on their team this year.
Other guys with more opportunity this season:
Kyle Lowry (5th round)
Marcin Gortat (6)
JaVale McGee (6)
Roy Hibbert (8) – if he can stop fouling
Jarrett Jack (10)
Toney Douglas (10)
Ed Davis (11)
JJ Barea (11)
Tyrus Thomas (12)
Landry Fields (12)
Gordon Hayward (undrafted)
Eddy Curry's corpulent form (undrafted) – just kidding
Remember Specialists
This is where the action movie analogy really works. You would much, much rather have Vinny Jones play the 'slightly crazy muscle guy' member of the team than Paul Giamatti, because is a better fit for that specialist role despite Giamatti's overall acting chops. Same thing applies for fantasy. Rip Hamilton might be a better actual basketball player than Lou Williams or Anthony Morrow, but from a fantasy standpoint most owners would rather have Williams and Morrow bombing 3s than Rip's steady mid-range efficiency. At the end of a draft – and especially in free agency if you're plugging holes – it's worthwhile to get specialists who consistently fill a rare category. Some examples:
Assists
Jose Calderon (9th round)
Andre Miller (12)
Ramon Sessions (undrafted)
Threes
Antawn Jamison (10)
Jamal Crawford (10)
Lou Williams (11)
Ryan Anderson (12)
Morrow (U)
Rashard Lewis (U)
Steals
Tony Allen (12)
Andrei Kirilenko (12) – combined with his blocks
Trevor Ariza (U)
Blocks
Sam Dalembert (12)
Andrei Kirilenko (12) – combined with his steals
Darko Milicic (U) – this is all he's good at apparently
Marcus Camby (U)
Ekpe Udoh (U) – keep an eye on him… he averaged 1.5 blocks in 17 minutes/game (!!) last year
That's the early-season fantasy primer. For more on the prevailing fantasy strategies, I'll be writing up the Fantasy Kahn and the Dwight-Rondo in the next few days. And thank you for not taking any of my sleepers in my drafts.