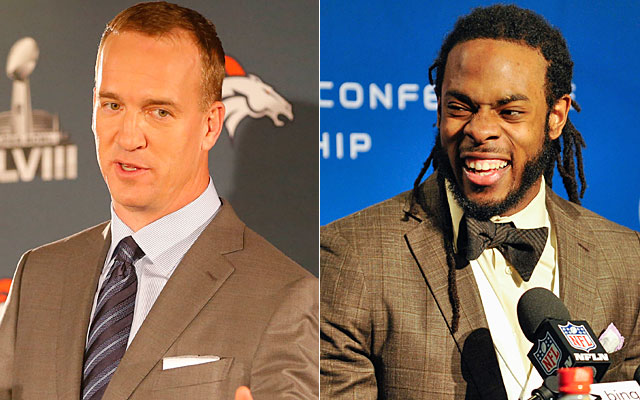 Sometimes this is what the Super Bowl feels like. Football players wearing suits. It's a HUGE deal, but not exactly the ideal scenario for anyone. Too many distractions, too much hoopla. But you know what? No one cares. IT'S THE SUPER BOWL!! This might be America's biggest unofficial holiday, although Cinco de Mayo might take exception to that (and you do not want to piss off someone drunk on tequila). Wow, this really went off the rails fast. Where was I? Oh yeah. THE SUPER BOWL!! Squares, parties, commercials, media driven hype, prop bets, confetti, Disneyland, half time shows, and a little football mixed in.
A friend from work is taking today off. He is Chinese and apparently it's bad luck to work on the day of the Chinese New Year when it corresponds to the same year as your birth. This is now the Year of the Horse. I'd say that's a pretty good sign for the Broncos come Sunday. Let's just skip all the analysis below and go with Chinese superstition. It's likely to be just as effective. Although next year is the Year of the Sheep and I don't think the Rams are making the Super Bowl. And who would the Monkey apply to the year after that? In fact, I can only relate Horse, Sheep, and Tiger to an NFL team. I guess you could argue the Rooster applies to any of the bird teams. Maybe this wasn't such a great idea.
Getting straight to the stats, the Broncos are more likely to throw an interception, but that is more because the Seahawks defense is that much better than the Broncos. As you would expect Manning is better at avoiding interceptions (and pretty much everything related to passing) than Russell Wilson. But the Seahawks defense is really good. For those of you who remember my mantra from past years playoff analyses [analyses is a very underrated plural], when you have a dominant offense against a dominant defense, you look the other way. This game will be decided by how well the Seahawks offense does against the Broncos defense. And the first thing I looked at was that Seattle has not thrown an interception in the playoffs and the Denver defense has not caught an interception in the playoffs. Not a good sign for Bronco backers. [I really do love alliteration. Does 'love alliteration' count?]
Football Outsiders
also says the Seahawks offense is better than the Denver defense. And they give the Seahawks a 58% chance of winning. Pythagorean winning percentage also agrees saying the Seahawks win 53% of the time on a neutral field. So I guess all this is telling me to take the Seahawks and since they are the slight underdog, I have the nice option of taking them with a couple points or the money line at around +120. This is looking good.
But I just don't want to. I don't want to root for the Seahawks. I want to root for the Broncos. I can feel it. I'm not exactly going against my analysis...I think the Seahawks should be favored and would probably pick them accordingly, especially against the spread. I'm just not going to make a big bet on the winner either way. I want Peyton to get his second Super Bowl and end the
narrative of him not being one of the greatest quarterbacks of all time
, regardless of qualifier. This is going to sound a lot like me making a case for the Broncos and not exactly impartial analysis because that's exactly what it is. These things are likely to happen and while they might lean towards a Broncos victory, they don't ensure it. The Seahawks defense probably comes up with one interception, but I don't think it will be Peyton's fault. Probably a ball bouncing off a receivers hands as they are being hit and a defender making an incredibly athletic play. Other than that, I don't think there will be many turnovers. Maybe one fumble, but recovered by the offense. The Broncos are going to attack the Seahawks defense early and they'll actually get a pass interference penalty or two [or defensive holding or illegal contact]. The refs will want to make those calls early because they won't want to make them later. These two penalties will actually get the Seahawks defense to soften just a little and Manning will go on a maestro like spree for a few series in the first half. Six different players will have catches and you never know when or where they are coming from. How was Julius Thomas so wide open 15 yards down field? Why was a linebacker covering Wes Welker? Did Eric Decker just beat Richard Sherman? Did Knowshon Moreno just convert a 3rd and 7? The Broncos are going to hurry the pace, go no huddle to prevent Seahawks substitutions and get them into their base Cover 3 and then just pick them apart with a steady stream of 6-12 yard plays.
On defense, the Broncos will rush five more than you would expect. They will stay disciplined in their rush lanes and Russell Wilson is going to take a couple big sacks by scrambling, looking to throw, instead of just tucking the ball and running. The defensive backs play a little softer because they will prioritize preventing the big play knowing the greatest quarterback of all time is having a good day. The Seahawks O-line is their biggest weakness and Shaun Philips and Terrance 'Pot Roast' Knighton will get enough pressure to help out their weakened secondary.
Of course, its totally possible a steady diet of read-option runs by the Marshawn Lynch and Russell Wilson lead to long drives and keeping Manning on the sideline. The one of the greatest passing defenses of all time forces Manning into 2 interceptions and only one touchdown and that stupid narrative of Peyton Manning choking continues giving no respect to just how good this defense is.
So if I'm not going to place a big bet on the outcome of the game, where do I go from here? Prop bets of course! (Was I projecting that a little too much. Did I troll it just a little too long? Am I using the asking a question and answering it myself as a crutch? Wait, a second, I'm still doing that. Dammit!).
I had a lot of fun with prop bets last year.
It helped that is was a very [fictionally] profitable day.
Here is the list of prop bets I'm looking at.
I agree with Bill Simmons that Russell Wilson at 15/4 for MVP is a great bet. If the Seahawks win, he's the overwhelming favorite to win MVP. Just a good hedge all around. Other ideas I like over on Wilson's passing yards because they are trailing, under on all the Broncos receivers passing yards because they will be spreading it around so much, but over on Julius Thomas receiving yards. Under 1/2 interceptions by Russell Wilson. Actually, scrolling down, exactly 0 interceptions is +120 instead of the +110 for the previous bet. Weird. I'll probably go over on Wilson's passing attempts and completions. -200 Wilson will throw a TD pass before an interception. Same idea, different way to bet, different hedge. Under on Lynch's rushing attempts, first rush over 3.5 yards. Knowshon Moreno over 62.5 yards, although I'm worried about Montee Ball taking carries. Marshawn Lynch +9.5 more receiving yards than Knowshon Moreno. (Ok, I'm starting to get a little random now...)
Now I'm looking for props with at least 3/1 odds...
Last score of the game Seahawks TD Pass 5/1. Wow, lots of bets I just had no opinion on. I'll take a look again later and make my bets below.