Rather than a beer review this week, I am passing along
a link from MP
(who was not bold enough to post this himself) about the
50 Best Beers in America
as named by the American Homebrewers Association. Or maybe as named by readers of
Zymurgy
, the AHA's magazine. Not quite sure. (Fun etymology fact -
Zymurgy
is named after zymology, which means the process of fermentation and frequently is used as a fancy term for the study/process of beer-making. Class dismissed.)
Keep in mind that people who brew their own beer about as hardcore as beer aficionados get, so it is not too surprising that the list is dominated by IPAs and Imperial Stouts, the extreme manifestations of their respective styles. Pliny the Elder by Russian River, which we tasted in the
FIWK IPA Tasting
, came out on top. There are lots of beers on here that I haven't had before, so I'm very excited to try to work through this list.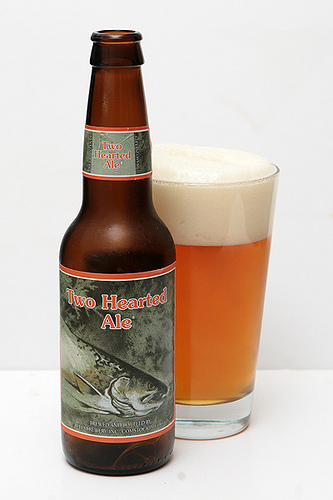 (pictured: #2 finisher Two Hearted Ale by Bell's)
Anything on here that you would personally rate higher? Any beers listed that you want to go find now?